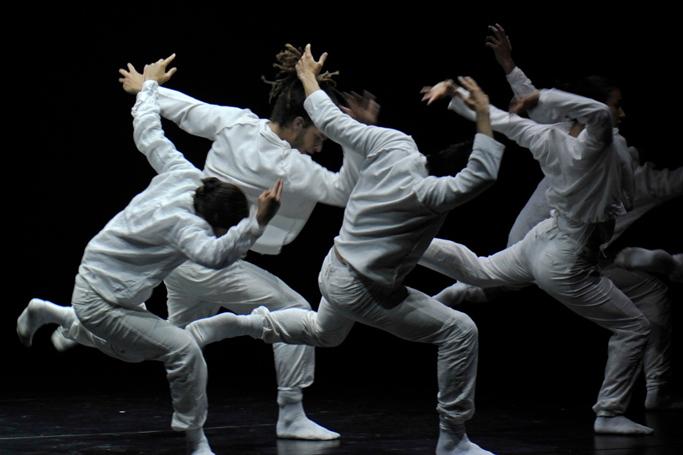 For the opening of its 2015/16 season, DanceHouse is pleased to announce the return of the Hofesh Shechter Company.
The internationally renowned UK-based troupe is bringing its new work, barbarians, to the Playhouse this November. The trio of pieces premiered this summer to great acclaim at Berliner Festspiele as part of the illustrious international performing arts festival Foreign Affairs.
Very much recognizably in Shechter's style, barbarians also signifies an advance in the Israeli-born choreographer's career and artistic ambitions.
Renowned for his dramatic juxtaposition of musical elements with movement, Shechter once again employs bombastic scores to showcase his masterful choreographies. This time though, this often political artist aims to illuminate some the most fundamental of all human experiences—intimacy, passion and love.
In the barbarians in love, the first piece, six white-clad figures move as one to the strains of an ecclesiastic baroque score as well as narration. The piece reveals Shechter's choreography at its most elegant, intimate and perturbing, as the barbarians in love builds to a truly contemporary confession.
tHE bAD is a joyous, trance-like work for five dancers. Focussing on the groove and the body, it combines baroque classical with the street language and beats of hip-hop artist Mystikal in a volatile explosion of dubstep grooves and urban choreography.
Two completely different angles of the same fucking thing offers a quirky yet poignant duet from the company's longest running dancers. The music jumps from baroque to the industrial grime of Bredren and MC Swift's Control.
In 2009, Hofesh Shechter wowed Vancouver audiences with his pieces Uprising and In your rooms. He and his company will undoubtedly do the same with barbarians, both delighting and challenging dance enthusiasts with an evening of music and movement that prompted the Guardian to remark, "Superb stuff: juicy, nervy ensembles and a wittily unsettling commentary."
Pre-show talk: 7:15pm, Upper Lobby of the Playhouse.